April 2013

A Message from Your Chapter Chairman, Benjamin Rabe, CEM

Dear IAEE Midwestern Chapter,
It is my pleasure to present to you the latest news for our chapter. We have been busy!

Though we're only a few months into 2013, the chapter has already had a great event and a dynamic educational program. We are thrilled to be supporting a fantastic organization, The Hornets Youth Sled Hockey Team as our 2013-2014 Chapter Charity, and we have several exciting programs and events coming up this year. We've even partnered with other great organizations in order to provide you with access to additional quality educational opportunities.

The word partnership is often used in our industry. It is used just about everywhere. Show organizers use it with their general service contractors and other suppliers when they ask for that one extra table or floral arrangement. Hoteliers use it when negotiating room rates or, heaven forbid, in an attrition situation. Sales managers are now creating year round partnership agreements instead of sponsorship agreements.
This past winter the Midwestern Chapter Board of Directors worked on event partnership agreements with Association Forum of Chicagoland and MPI Chicago Area Chapter. These partnerships will give you greater access to education and networking opportunities and allow you to make the most of your time out of the office! You can see further details in the upcoming events listing below.
Also, if you are in the Chicago area, please mark Thursday, May 23 on your calendar for HUG Chicago. Over 400 people participated in 2012. We hope that you'll join us at this annual event. Plan to give back to the city all while networking and having fun at the same time.
The Midwestern Chapter Board of Directors is looking forward to greeting you soon!
- Benjamin

---
This Quarter's Highlights
Wiffle Ball
Our 5th Annual Wiffle Ball Tournament was held January 31 at Chicago's McCormick Place. Congrats to the team from GES who battled it out with Valley Expo in the finals to win their 4th title in a row! Click here for photos from the tournament.
February Education Program

Held on February 27 at the Donald E. Stephens Convention Center in Rosemont, Illinois, industry experts discussed the pros and cons of and how to create a successful hosted buyers program from scratch that will bring value to your exhibitors and key buyers alike. Thank you to our panelists - Michael J. Lyons, Exhibition Director – AIBTM; Carylann Assante, CAE, Executive Director of the SYTA and SYTA Youth Foundation; Craig Hoffend, VP, Business Development / National Sales, GES – and our Moderator - Sandy Chapin, CEM, Group Show Director, ALLURED Business Media - for a great discussion with many takeaways. This program was generously sponsored by Rosemont Exposition Services, Donald E. Stephens Convention Center, and Rosemont Catering.
---
Chapter Charity Spotlight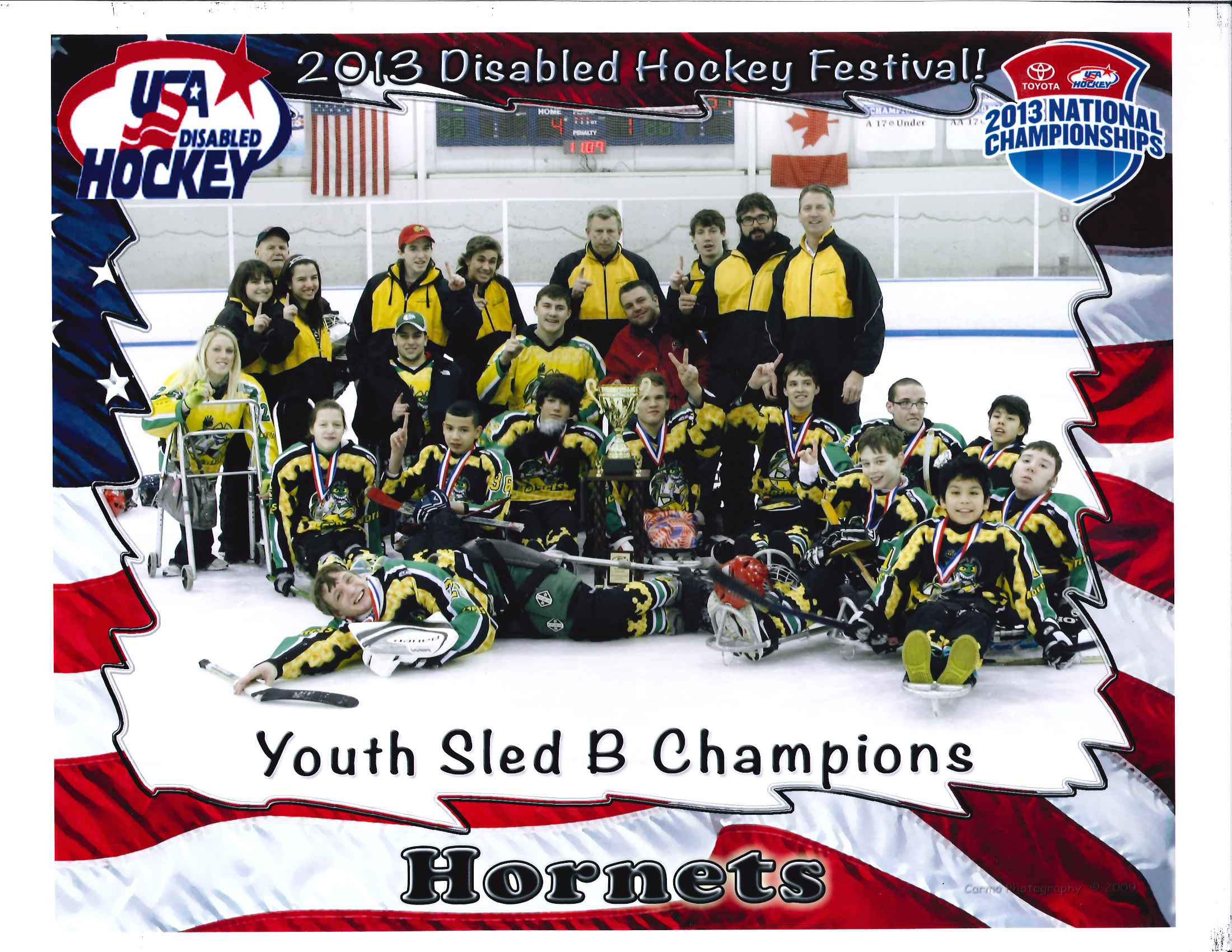 The Hornets Youth Sled Hockey Team is an organization that makes hockey available for everyBODY! The team is an entity of the Amateur Hockey Association Illinois, Inc.
The Hornets are a youth sled hockey team made up of players from 5 to 20 years old. Sled hockey, invented in the 1960s, is designed to allow people with physical disabilities to play ice hockey. The Hornets play games against able-bodied teams in Illinois on a regular basis as well as compete in sled hockey tournaments throughout the country. Click here to see the Hornets' upcoming games.
---
CEM Course in the Chicagoland Area
Course: Event Marketing
Date/Time Tuesday 7 May 2013 from 8:30pm – 4:30pm
Event: Co-Location with Destinations Showcase
Location: Donald E. Stephens Convention Center, Rosemont, IL
Instructor: Donna Johnson, CTS, CMP, CEM - Courtesy Associates
Registration: Register Here
Course Description:
Event marketing includes attendee, exhibitor and sponsor promotion, sponsorship and advertising sales as well as how various marketing approaches are integrated to create a successful exhibition or event. The exhibition organizer faces the constant challenge of selecting the best methods and strategies to market the events and convey the marketing message effectively to their target market.

---
Upcoming Events
May 23, 2013 – HUG Chicago 2013
June 18, 2013 – Educational Program with Association Forum of Chicagoland – The Boneyard and Other Secrets: An Insider's Guide to Working with a Convention Center
July 10, 2013 – Educational Program & Networking Event with MPI-CAC – Meetings and Convention Industry Trends: A Leader's Perspective
September 9, 2013 – Midwestern Chapter Golf Outing
September 25, 2013 – Midwestern Chapter Annual Meeting – Release Your Inner Nerd: Online Tools and Apps to Increase Productivity and Awesomeness
December 4, 2013 – Midwestern Chapter Holiday Party and Educational Program
December 10, 2013 – Midwestern Chapter Reception at Expo! Expo!

Click here to see details on all of our upcoming events!