October 2016
A Message from Your Chapter Chair, Jennifer Kimball
| | |
| --- | --- |
| | Unlike most of the news updates you have been reading lately, I promise this one will have no mention of politics or creepy clowns. What I do have updates on are some of the fun and engaging efforts the Midwestern Chapter has accomplished over the past few months, as I look back I am impressed with what our amazing Board and committees have been able to pull off! In July we participated in the Industry Xchange, which drew over 400 industry professionals for a lively keynote and excellent networking event at Navy Pier. Next year, this event will be held in conjunction with Global Meetings Industry Day in April. Be on the lookout for much, much more on this event! |
We also held our 2nd Annual Concurrent Meet Up, with other cities within our Chapter. Members from Milwaukee and Minneapolis joined Chicago in gathering together in our respective cities to enjoy each other and have some informal networking time.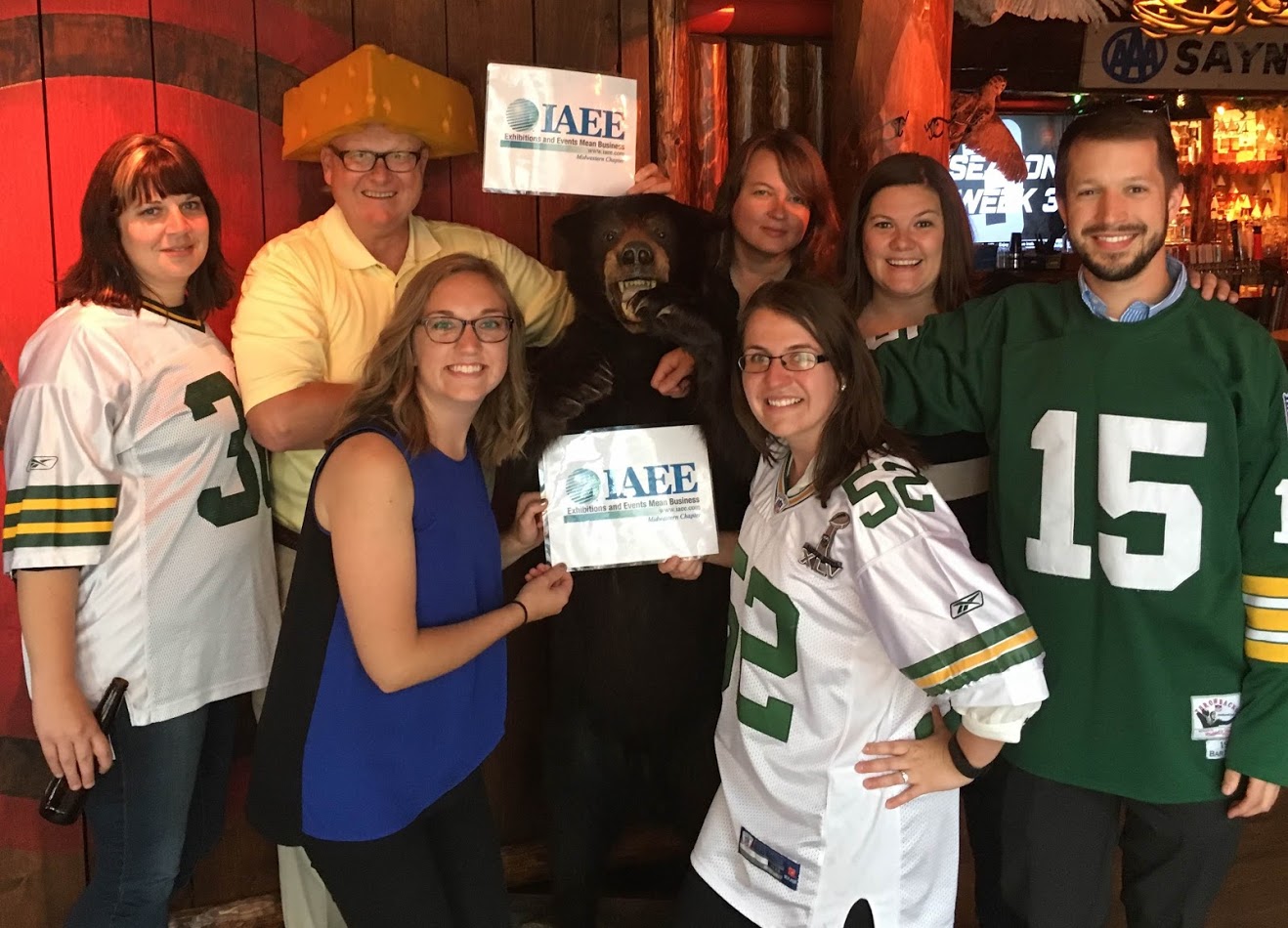 We then began preparing for our Annual Golf Outing, which was once again a picture perfect day out on the course. We wrapped it up with a delicious buffet, prizes for the winners and an amazing silent auction and raffle facilitated by our 2013-2016 chapter charity friends, members of the Hornet's Youth Sled Hockey team. Speaking of our chapter charity, while we have loved our time with the Hornets, it is time to move on and our Board has selected as our 2017-2018 chapter charity the Andrew Weishar Foundation, whose mission is to provide immediate resources to families with adolescents or young adults stricken with cancer. You can read more about them here: http://www.weish4ever.org/
Our Annual meeting was a smashing success, our IAEE Chair Julie Smith kicked us off with an industry update (and chocolate!) and then our keynote speaker Shelley Row taught how our brain is wired for overthinking, and tricks to recognize when we need to take a break before speaking. I've used her advice often and I know that those who were there will as well. We also announced the recipient of our YP Scholarship, Liz Klostermann with Meeting Expectations. Liz will receive a complimentary registration to Expo! Expo! in Anaheim, as well as 2 night's hotel stay. Our inaugural Volunteer of the Year Award went to Jack Thompson with ExpoExpert Inc. Jack has been a key member of the critical and hardworking Programming Committee, and we are grateful for all he does for the Chapter!
We will keep our incredible momentum going for the rest of the year, and into next, and if you'd like to be a part of it please feel free to reach out to me at any time! We will see you at our upcoming events (details below.)
Kimball
Quarterly Highlights
27th Annual Golf Outing

Seven Bridges Golf Club was the site for the Annual Golf Outing. The greens were well tended, the weather was perfect and the course was challenging. The Midwestern chapter was represented by 100 golfers.

Next year's outing will be held on Monday, September 11, 2017 - see you then!


Annual Meeting

On September 21, we hosted our Annual Meeting at River Roast in Chicago. IAEE Chair Julie Smith gave us an industry update and keynote speaker Shelley Row presented Go with Your Gut: Effective Decision-Making in an Over-Thinking World. Shelley introduced "infotuition" to us and defined it as the balance point between cognition and intuition for the particular situation. She encouraged us to be infotuitive leaders because they use both facts and feelings for insightful decision-making. It's not just about the data.
---
Important Reminders


Tweet us and tag us on Instagram at @IAEEMWC! Follow us on Facebook and LinkedIn, and check out our NEW IAEE MWC Blog to keep up with the latest industry news and trends!
Download our Chapter App, today!

CoreApps has generously sponsored chapter apps for each IAEE Chapter. Our app will contain information on our programs, our sponsors and our meetups.

To download the app, go to your app store on any device and search 'IAEE Member Direct'. Then on the bottom right, click 'Chapters', and select "Midwestern'.
---
Upcoming Events - Save the Date
Midwestern Chapter Holiday Party


When: Wednesday, November 30
Where: AceBounce, Chicago

Save the date! Details and registration coming soon!

Chapter Reception at EXPO!EXPO!

When: Tuesday, December 6 - 5 p.m. - 7 p.m.
Where: Anaheim Marriott

Check your inbox! An evite for this event will be sent in November. See you there!

Kickball Tournament

When: Thursday, February 2, 2017
Where: McCormick Place

Save the date to join us for the games, networking, food, drinks, and fun!
---
Industry Related Tips and Tools
Getting to Know You: Data Collection by Jean Heis, CMP

https://iaeemwc.memberclicks.net/getting-to-know-you--data-collection
Help Your Exhibitors Wade through a Sea of E-Mail Clutter by Lisa Goecke Malikow
https://iaeemwc.memberclicks.net/help-your-exhibitors-wade-through-a-sea-of-e-mail-clutter
Merits of Personal Touch in the Digital Age by Patrick Carlson

https://iaeemwc.memberclicks.net/merits-of-personal-touch-in-a-digital-age
Bundling Exhibitions Products to Drive Revenue by Chris Baumgartner
http://www.iaeemwc.com/bundling-exhibitions-products-to-drive-revenue
10 Tips to Grow Your Trade Show Prospect List by Kevin Jackson
http://www.iaeemwc.com/10-tips-to-grow-your-trade-show-prospect-list
Go Ahead & Go Green! by Erin Sweeney
http://www.iaeemwc.com/go-ahead---go-green-
The Only Reason You Need to Start Networking by Jennifer Kimball
http://www.iaeemwc.com/the-only-reason-you-need-to-start-networking